We all have cherished memories of sharing a great meal with people we care about. A common thread weaving through all the memories is often a special dish we share together. Whether it's that perfect cup of hot chocolate, the ultimate mashed potatoes, Saturday morning crepes, or grandma's famous cookies. We all have that recipe that instantly makes us feel HOME. 
We want to celebrate and lift up great moments with all of you! We thought it would be fun to create a "Digital Cookbook" together filled with delicious recipes. Our first submission comes from Cassie Wiesman, National Corrections Account Manager, Corrections – Tulsa, Oklahoma.
Sweet and Smoky Pineapple Chipotle Chili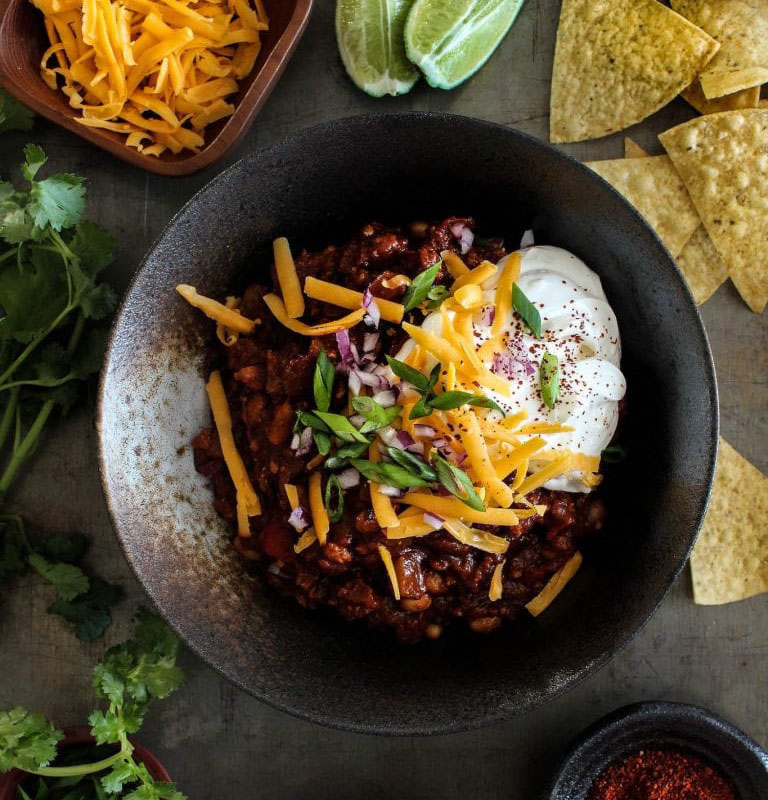 Prep Time: 10 min Cook Time: 3 hrs Total Time: 3 hrs 10 min Servings: 6
Ingredients
1 Pineapple, chopped
1 can Navy beans- approximately 2 cups
1 can chopped tomatoes- approximately 3 ½ cups
½ can chipotles in adobo sauce, chopped
1 pound ground pork
1 can tomato paste-approximately ½ cup
3 tablespoons gochujang paste
3 tablespoons cocoa powder
1 large onion, chopped
1 red pepper, chopped
1 ½ teaspoons ground cumin
3-4 cloves chopped garlic
2 tablespoons fish sauce
2 tablespoons maple syrup
¼ cup brown sugar
Salt to taste
Instructions
Prep
Chop onion, garlic, red pepper and set aside for later. Do not combine.
Add tomatoes, beans, chopped pineapple and chipotle (and sauce) into a slow cooker and set it on low.
Browning Meat & Spices
In a frying pan or cast-iron skillet, add some oil and set it on medium-high heat.
When the oil is hot, add in onions and peppers and cook until brown. (Approximately 5 mins)
Add garlic, cumin, cocoa powder, tomato paste, and gochujang paste and toast it for approximately 3 minutes. It should look goopy.
Add in the meat and mix well with the onions and paste. Break up the meat into tiny bits and cook until it has browned. (Approximately 5-8 minutes)
Setting the Slow Cooker
Add the meat mixture to a slow cooker, stir to combine contents and set for 3 hours on low.
Refrain from adding salt and sweeteners (fish sauce, maple syrup and brown sugar) until after it has cooked for 3 hours, and the chili has had time to meld in flavors.
Before serving add sweeteners and serve with your favorite chili toppings.