Sticky Tofu Bowl
This Vegetarian Recipe comes from one of our talented Travel Recruiters, Lorelle Watkins.
A crispy, sesame and garlic pan-fried tofu dish that's definitely going to get your tastebuds tingling!
The sweet & sour mix is layered on top of a bed of fluffy rice and topped with fresh spring onions.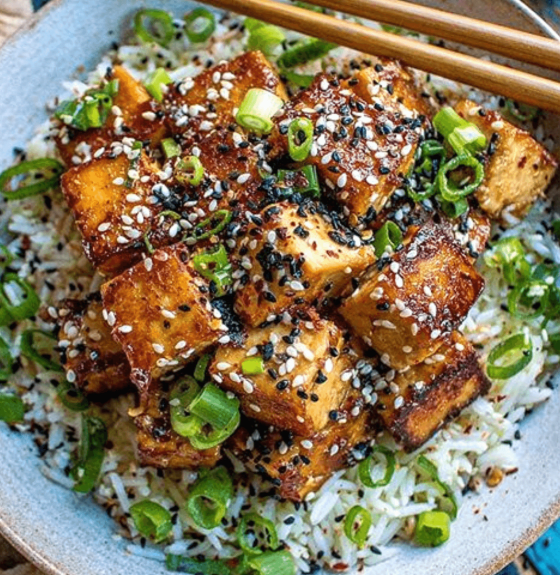 Ingredients
2x packs of Cauldron Quick & Tasty Tofu
2x tbsp of cornstarch
½ tbsp of sesame oil
1 tbsp of vegetable oil
For the sauce:
¼ cup of low sodium soy sauce
¼ cup of water
2 tbsp of honey
1 ½ tsp sambal oelek
1 tsp of garlic paste
½ tsp of rice wine vinegar
1 tbsp of cornstarch
450g basmati rice
Directions
Slice the Tofu in half and then into cubes. Place into a large bowl, sprinkle cornstarch on top and gently toss with your hands to ensure all the pieces are covered.
To a large skillet, add sesame oil and vegetable oil and then bring up to medium to high heat.
Once the oil is heated up, add the tofu to the skillet and let it brown on all sides.
In the meantime, whisk together the ingredients for the sauce.
Once the tofu has browned and crisped up on all sides, add the sauce to the skillet and it should start to thicken immediately. Toss the tofu around to coat and then remove from the heat.
Serve on a bed of rice or noodles and enjoy!