S'mores Dip
This Delicious Recipe comes from our Branch Manager in Louisville Kentucky, Kasey Gividen.
Everyone loves a great campfire, well why not have your own campout in your kitchen and save the bug attack and expense. I mean who doesn't love Smore's?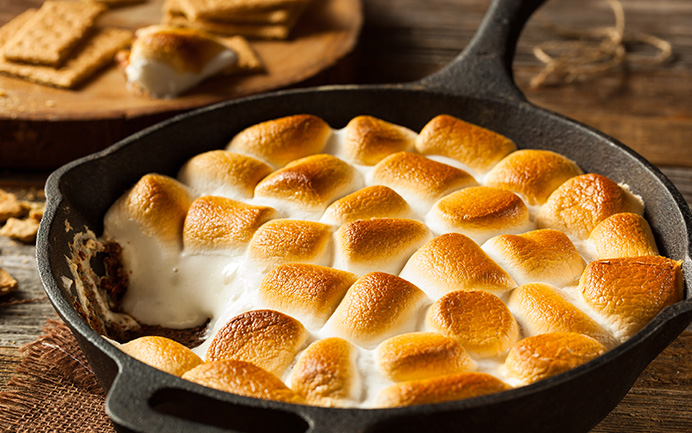 Directions
Combine the chocolate chips, heavy cream, corn syrup, butter and 1/8 teaspoon salt in an 8-inch cast iron skillet (see Cook's Note). Put over medium heat. Stir periodically as the mixture comes to a gentle simmer. Simmer for 6 minutes, stirring frequently, until the sauce is smooth and slightly thickened. Turn down the heat if the sauce comes to a full boil. Remove from the heat and let cool at least 15 minutes.
Preheat the broiler.
Cover the fudge sauce with a single dense layer of marshmallows. Place under the broiler and broil until the marshmallows are toasty brown, 2 to 3 minutes (watch carefully as they may brown more quickly depending on your broiler.) Serve right away with dippers.
Cook's Note
If you don't have a small cast-iron skillet, you can make the fudge sauce in a saucepan and transfer it to a baking dish to go under the broiler. For a shortcut, use 1 1/2 cups of store-bought fudge sauce instead of making it yourself.