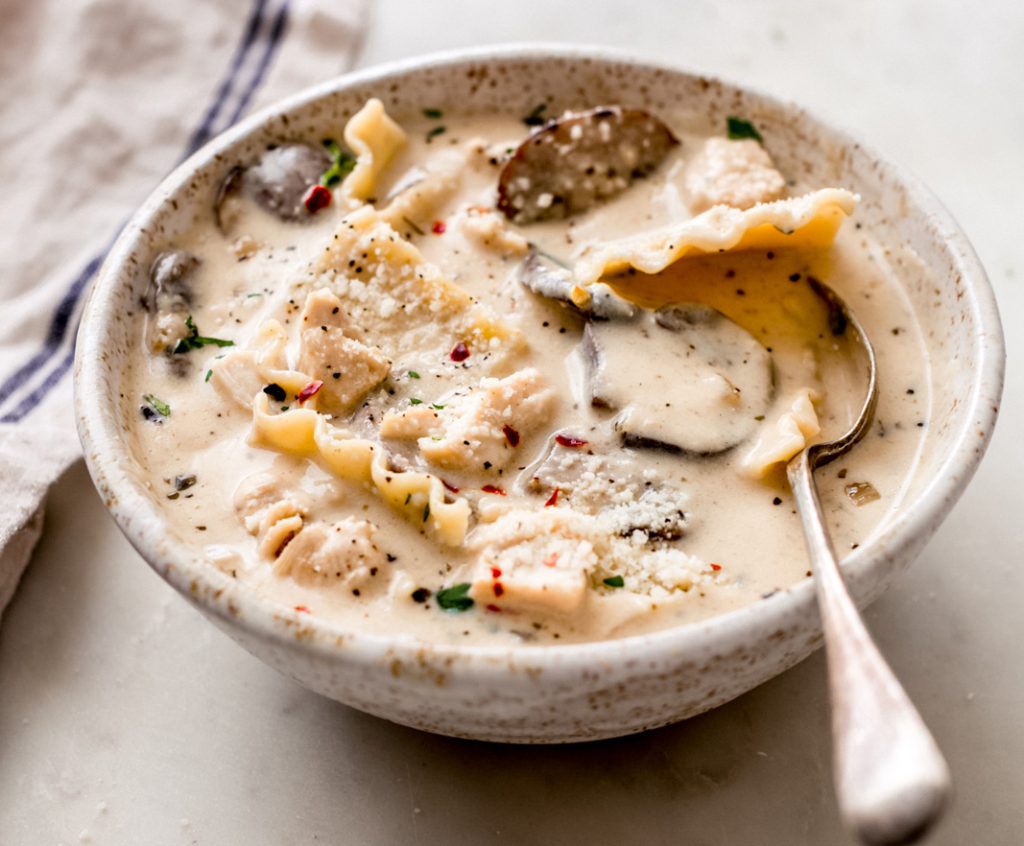 Fall is the perfect time to revel in hearty, comforting meals, and we've got a recipe that will truly warm your soul. Cassie Wiesman, Account Manager in the National Corrections division, has shared this delectable Roasted Garlic White Chicken Lasagna Soup with us. With savory flavors and a dash of garlic goodness, it's a delightful way to embrace the fall season.
Ingredients:
½ cup roasted garlic cloves
1 (16.9-ounce) jar prepared Alfredo sauce
1 ¼ pound boneless, skinless chicken breasts, chopped into 1-inch pieces
1 tablespoon EACH: olive oil AND all-purpose flour
3 tablespoons butter
4 ounces mushrooms, sliced
½ cup onions, minced
4 cups chicken stock (or broth)
2 cups half and half (or whole milk)
1 teaspoon EACH: garlic powder, dried basil AND Italian seasoning
¼ teaspoon EACH: ground nutmeg AND red pepper flakes (add more to taste)
½ cup grated parmesan cheese
10 lasagna noodles, broken into 4 pieces each (cooked)
2 tablespoons chopped parsley, for serving
Instructions:
BLEND: Begin by adding the Alfredo sauce and the roasted garlic to a blender. Blend until the mixture is silky smooth, and then set it aside.
SAUTE: In a large pot or Dutch oven, heat the olive oil over medium-high heat. Add the chicken, season it with salt and pepper, and cook for 4-6 minutes until it's no longer pink. Remove the chicken from the pot and set it aside. In the same pot, melt a tablespoon of butter and add the sliced mushrooms. Sauté the mushrooms for about 5-6 minutes until they turn brown. Transfer the mushrooms to the plate with the chicken.
SOUP: In the same pot, melt the remaining two tablespoons of butter. Add the minced onions and sauté them for approximately 5-6 minutes until they become translucent. Sprinkle the flour over the onions and stir, allowing the flour to cook for about a minute. Whisk in the chicken broth, followed by the half and half. Pour in the prepared roasted garlic mixture, and season the soup with salt, garlic powder, Italian seasoning, ground nutmeg, and red pepper flakes. Allow the soup to come to a gentle simmer and let it cook for 10 minutes. Stir in the parmesan cheese and the cooked chicken, mushrooms, and chopped parsley. Taste and adjust the salt if needed. You can either add the cooked lasagna noodles directly to the pot or, if you anticipate leftovers, serve them in bowls and ladle the soup over them. Serve this delightful soup warm!
A big thanks again to Cassie Wiesman for sharing this wonderful recipe that perfectly captures the essence of this season. Give it a try and savor the rich flavors of autumn!