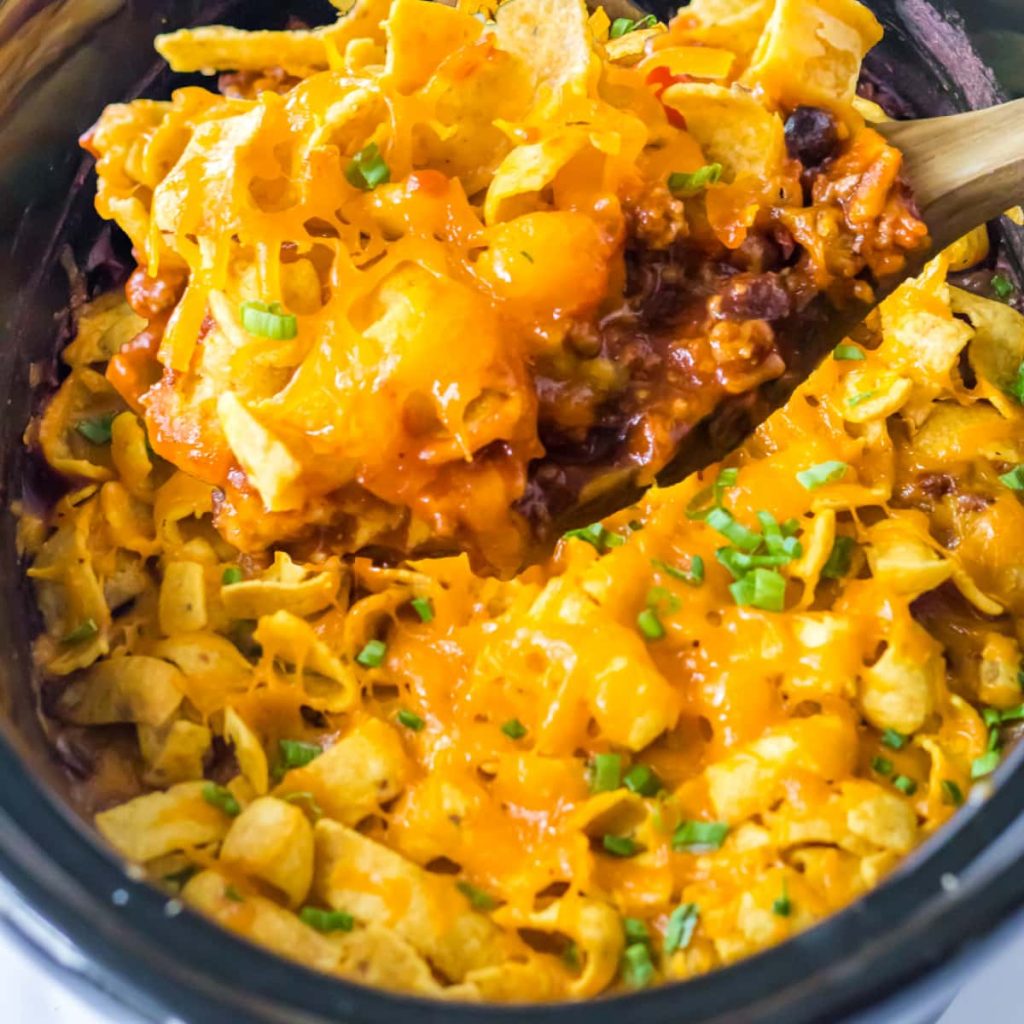 The Crockpot Frito Pie Recipe with ground beef, enchilada sauce, beans, ROTEL, cheese, and crispy Fritos is a new twist on a comfort food classic.
Ingredients
1 pound lean ground beef
1 small yellow onion chopped
3 cloves garlic minced
1 15-ounce can of black beans, drained and rinsed
1 10-ounce can Rotel diced tomatoes and green chilies
1 10-ounce can of red enchilada sauce
2 Tablespoons taco seasoning 1 packet
1 9.25-ounce bag Fritos
3 cups shredded cheddar cheese
Instructions
Brown ground beef with onions and garlic in a large skillet over medium heat until the beef is cooked through and no longer pink. Use your spoon to stir and break up the ground beef as much as possible as it cooks. Drain grease if necessary and transfer to the crockpot.
Add beans, Rotel, red enchilada sauce, and taco seasoning to the crockpot. Stir well to combine.
Cover and cook on high for 2-3 hours or low for 4-5 hours.
After that time, stir the contents of the crockpot then top with half of the cheese, followed by the Fritos, and finally the remaining cheese. Place the lid back on to allow the cheese to melt a bit before serving (about 10 minutes).
Serve warm and enjoy.
Notes
Optional toppings: sour cream, sliced green onions, salsa, sliced avocado or guacamole, additional shredded cheese, sliced black olives, diced tomatoes
Refrigerate leftover Frito pie in an airtight container for up to 3 days.
Thanks, Perrilee Farbro, our multi-talented Recruiter Assistant in the Customer Service/Contracts Travel Division, for sharing this delectable recipe!