As U.S. authorities and medical personnel work to contain the coronavirus pandemic, the number of total cases is growing across the country at different rates. The factors are many, from when the disease first broke out in a place to the testing capabilities and the different stay-at-home orders in each state.
With thousands of cases being confirmed every day in New York, the state is the epicenter of the nation's crisis and on a different scale from the rest of the country. NBC News will be updating the data in these charts, which show the per-day count of confirmed cases in each state, between 6 and 7 p.m. ET every day.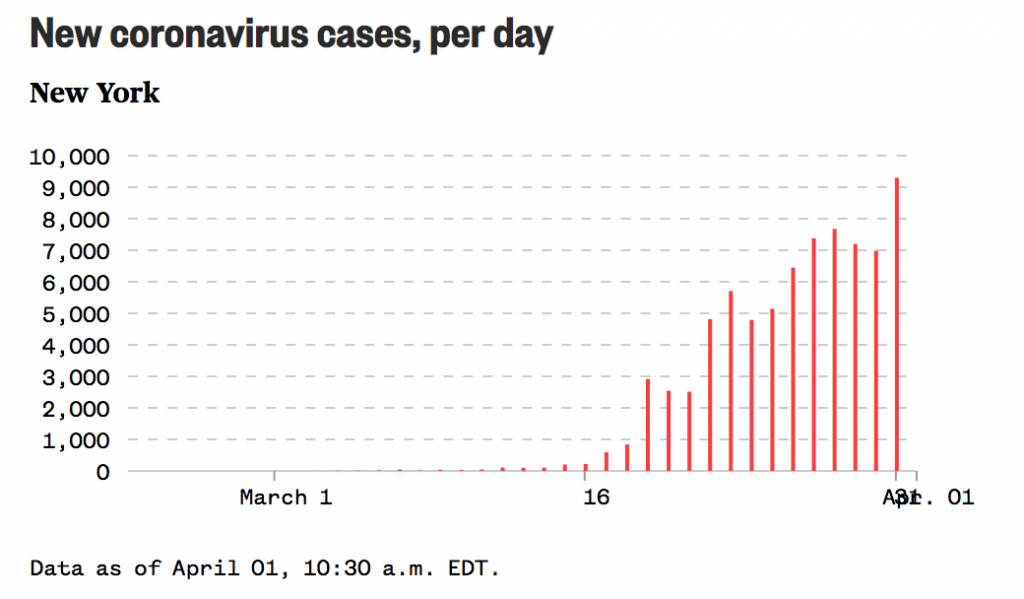 And while New York's outbreak is currently the most severe, several other states with high populations are seeing outbreaks as well. Note that cases in the U.S. are increasing due to improving in testing capabilities as well as more people catching the disease.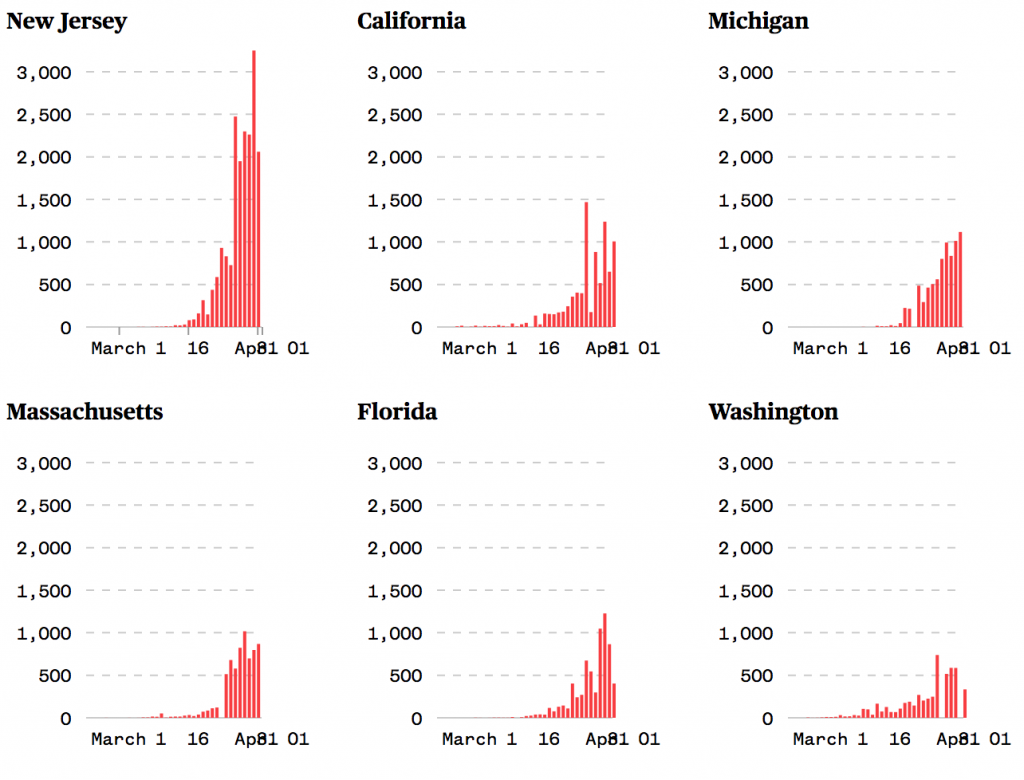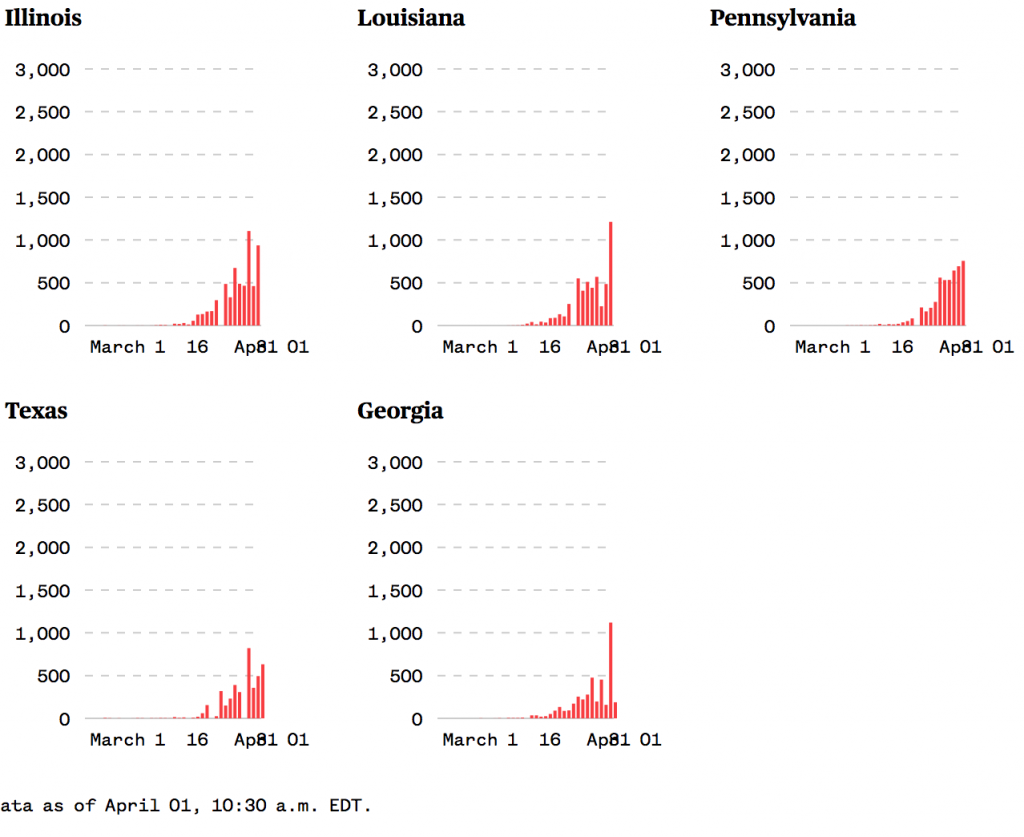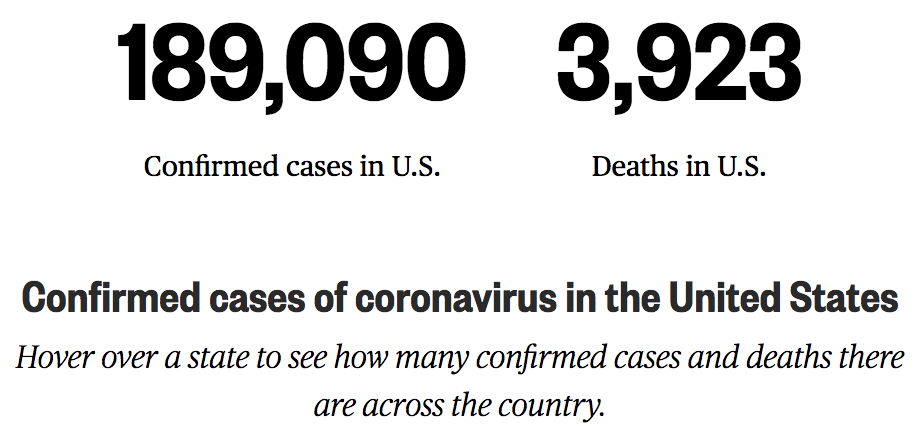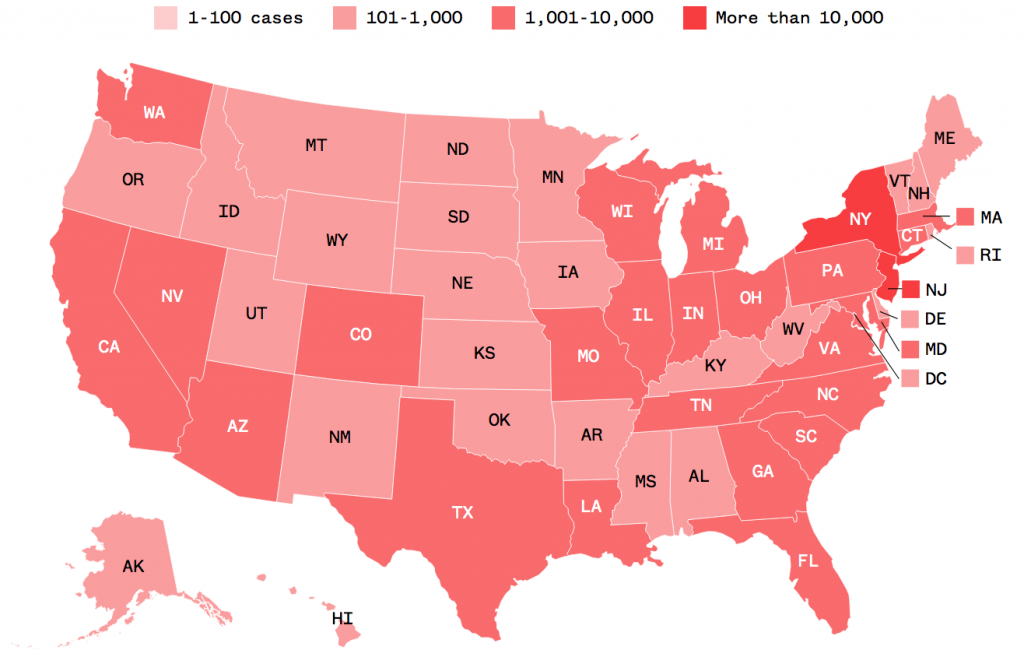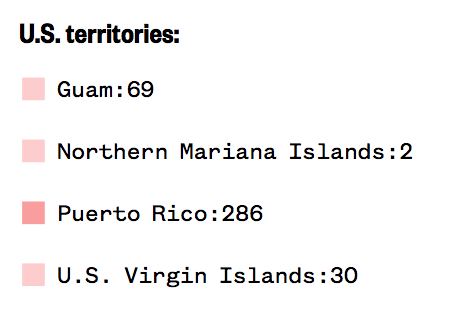 | | | |
| --- | --- | --- |
| States and territories | Confirmed | Deaths |
| New York | 75,795 | 1,550 |
| New Jersey | 18,696 | 267 |
| California | 8,561 | 183 |
| Michigan | 7,615 | 259 |
| Florida | 6,741 | 85 |
| Massachusetts | 6,620 | 89 |
| Illinois | 5,994 | 99 |
| Louisiana | 5,237 | 239 |
| Washington | 5,230 | 225 |
| Pennsylvania | 4,843 | 63 |
| Georgia | 4,117 | 125 |
| Texas | 4,035 | 67 |
| Connecticut | 3,128 | 69 |
| Colorado | 2,966 | 69 |
| Indiana | 2,565 | 65 |
| Tennessee | 2,382 | 23 |
| Ohio | 2,199 | 55 |
| Maryland | 1,660 | 18 |
| North Carolina | 1,498 | 8 |
| Virginia | 1,484 | 34 |
| Wisconsin | 1,351 | 16 |
| Missouri | 1,327 | 14 |
| Arizona | 1,289 | 24 |
| Nevada | 1,113 | 26 |
| South Carolina | 1,083 | 22 |
| Alabama | 999 | 17 |
| Mississippi | 937 | 20 |
| Utah | 887 | 5 |
| Oregon | 690 | 18 |
| Minnesota | 629 | 12 |
| Kentucky | 591 | 17 |
| Oklahoma | 565 | 23 |
| Arkansas | 564 | 8 |
| Idaho | 525 | 9 |
| Iowa | 497 | 7 |
| District of Columbia | 495 | 9 |
| Rhode Island | 488 | 8 |
| Kansas | 428 | 9 |
| New Hampshire | 367 | 3 |
| Delaware | 319 | 10 |
| New Mexico | 315 | 5 |
| Maine | 303 | 5 |
| Vermont | 293 | 13 |
| Puerto Rico | 286 | 11 |
| Hawaii | 224 | 1 |
| Montana | 198 | 5 |
| Nebraska | 190 | 4 |
| West Virginia | 162 | 1 |
| Alaska | 133 | 3 |
| North Dakota | 126 | 3 |
| Wyoming | 120 | 0 |
| South Dakota | 108 | 1 |
| Guam | 69 | 2 |
| U.S. Virgin Islands | 30 | 0 |
| Northern Mariana Islands | 2 | 0 |
Original Story – nbcnews.com – By Nigel Chiwaya and Joe Murphy