Accountable Healthcare Staffing Places in Top International Award – 2022 Summit Creative Award®
Boca Raton, Florida September 20, 2022
Out of more than 3400 submissions from 19 countries, Accountable is named a winner in the 2022 Summit Creative Award competition for its creative work in Advertising and Marketing.
This year's panel of esteemed international judges included professionals representing the following countries: Australia, Bulgaria, Canada, Germany, India, Italy, Russian Federation, Sweden, Taiwan, the United Kingdom, and the United States.
"Accountable has set the standard for innovation and creativity in the Staffing Industry," said Derek Sims, Senior Vice President of Marketing. "This award is a testament to the skill, ingenuity, and vision of our skilled Marketing Team"
Entries in 18 major categories are judged against a stringent set of standards. During its blind judging (entering company names withheld) the Board of Judges search for and identify innovative and creative concepts, strong executions and user experience, and the ability to communicate and persuade. Winners were selected in a wide-range of categories from print and broadcast to, online advertising and social media.
"Winning a Summit Creative Award is a significant accomplishment in ones career. Only deserving entries receive recognition with vetted judges, tough judging criteria, two-phase blind judging processes, and strict bylaws limiting winners." Said Jocelyn Luciano, Managing Director for the Summit International Awards. "The creative work this year was outstanding. Watching the judges debate the details of individual entries in the run-off for the tops spots was inspiring."
This year's creative competition included companies from the following 19 countries: Australia, Austria, Canada, Denmark, Germany, Hong Kong, India, Jamaica, Republic of Korea, Mexico, Pakistan, Puerto Rico, South Africa, Spain, Taiwan, Turkey, United Arab Emirates, United Kingdom, and the United States.
The Summit Awards organization was founded in 1994. Annually it conducts the Summit Creative Award, the Summit Marketing Effectiveness Award and the Summit Emerging Media Award. Congratulations to all the winners.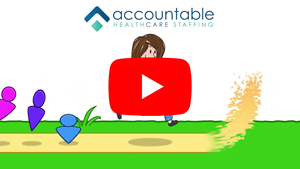 About Accountable Healthcare Staffing
Accountable Healthcare Staffing is a distinguished market leader in the healthcare staffing industry with locations throughout the United States, servicing healthcare facilities in all 50 states. The company places healthcare professionals at nearly 2,000 clients that are comprised of major medical centers, community-based hospitals, outpatient clinics, sub-acute and rehab hospitals, correctional and long-term care facilities, and schools. The company designs and implements workforce solutions programs nationwide with partner clients.
For more information visit www.ahcstaff.com
For more information please contact:
Derek Sims Senior Vice President of Marketing and Recruiting
Accountable Healthcare Staffing
(561) 235-7824 or at DerekSims@AHCStaff.com