EVERY BABY DESERVES
A FIGHTING CHANCE

Nearly four million babies are born annually in the United States – and each one needs us. As a result, Accountable Healthcare Staffing has joined the fight once again in 2018. A few of our Branch Locations have already started their local walks and these will continue through May. Team building and charitable events create an unbreakable bond with our teams and is a huge part of our Company's Culture.
Together, we can help raise money that is a lifeline for babies in the NICU, connecting them with the critical treatments and care they need. Through our participation we're joining the community that helps parents at every stage, from preconception to annual family walk day. The money we help raise funds research that will benefit every mom and every baby for generations to come.
Premature birth affects about 380,000 babies in America each year. Every child deserves a healthy start in life. Caring healthcare providers like us can help see to that. We are inviting you to sign up with your local branch or office for one of the hundreds of awareness walks happening across the country in the next few months.
If you are interested in joining the fight with Accountable – participating locations will be sending out important communications and a plan of action. It is our sincere hope that you'll find some time and unite with us for this important cause – ensuring the well-being and preservation of generations to come.
To Donate please here
---
WE HAVE: CHANGES IN LATITUDE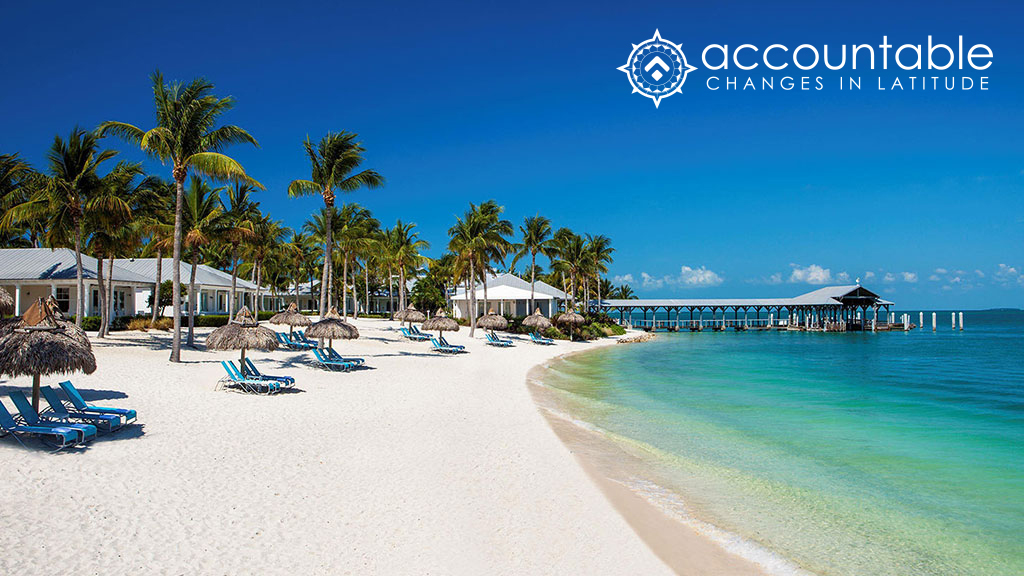 Team Accountable:
Our "Changes in Latitude" Giveaway for ALL our Healthcare Professionals Nationwide is underway. That's right, every modality, every specialty, every traveler.
Did you know that working with Accountable can get you to Paradise? Not just on contract but for a Real Escape from the Every Day.
This Contest started on March 1st and ends May 1st, every 36 hours you work with Accountable Enters you to Win a Summer Getaway to one of 8 Margaritaville Resorts.
The winner will receive a 3 Day 2 Night Getaway (Flight and Hotel) to their choice of one of 8 Margaritaville Resort Locations in the United States. We are almost there… Check our Facebook Page for the WINNER on May 11.
We know you work hard all year round and deserve an escape. Working with Accountable can get you to Paradise this year!
Ask your recruiters for details.
---
KNOW YOUR RESOURCES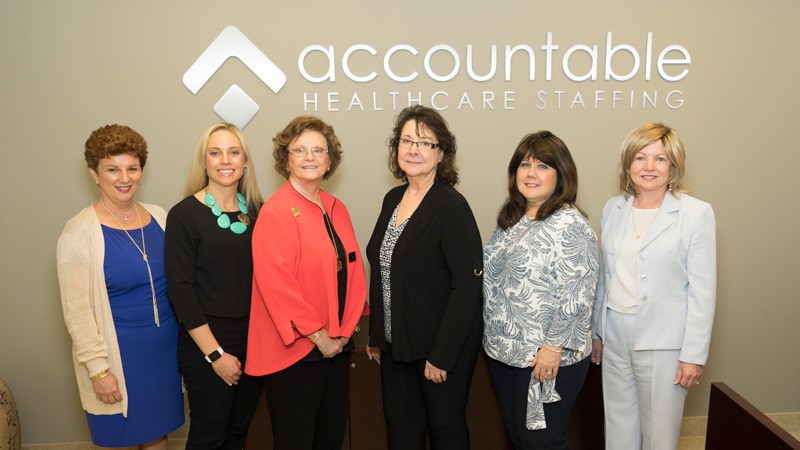 Meet the Clinical Team!  Made up of 4 Registered Nurses, a Quality Improvement Director and a Compliance Manager.  The team is available to support our internal Accountable Healthcare team, our Healthcare Professionals, as well as our client partners.  At the heart of our business is the patient who requires care.  The clinical team supports our mission through assistance in screening new applicants, ensuring that credential are appropriate and documented, providing education to our internal staff and HCPs, trouble-shooting clinical issues involving our HCPs in the field, supporting our clients to enhance their experience with our hcps in their facilities, and ensuring that we provide the highest quality staff and service.
Meet the Clinical Team Members:
The Clinical Team Leader is Merry Fort, BS, RN, Executive Vice President, Clinical Services
Merry has extensive experience in healthcare staffing having owned and operated her own nurse staffing business prior to being acquired by MSN in 1998.  She joined MSN's management team and served in various roles including VP Southeastern Division and CNO before leaving the company in 2012.  Prior to joining Accountable, in January 2013, she worked at Navicent Health as a clinical supervisor where she continued as needed until 2016. In her current role with Accountable, Merry leads the Clinical Team and assists with oversight of compliance to Accountable and Joint Commission standards of practice as a Healthcare Staffing Service Organization, supports the team in addressing clinical issues and concerns as they arise and is responsible for Risk Management activities.  Merry and the Clinical Team provide sales support for the travel and branch teams. Merry has 24 years of staffing industry expertise.   In 2015, Ms. Fort was appointed by the Governor of Georgia to the Georgia Board of Nursing, as a Nursing Administration representative and continues to serve as a current Board Member.
Barbara Sverdlik, DNP, RN, CENP, Vice President, Clinical Services
A Registered Nurse with over 25 years of Leadership experience as Nurse Manager, Director of Nursing and Chief Nursing Officer in hospitals of all sizes; community, academic medical center and a large tertiary care hospital that serves as the safety net hospital for the community.  Barbara has a BSN and MN (Masters in Nursing) from Emory University and DNP (Doctor of Nursing Practice) from University of San Francisco.  Most recently, she has been the Director of Nursing responsible for overseeing the operation for all inpatient Adult Units at Broward Health Medical Center in Fort Lauderdale.
Barbara is currently on the Board of Directors for the South Florida Organization of Nurse Executives (SFONE) and will serve on the Membership Committee of AONE (American Organization of Nurse Executives) in 2018.
Cathy Verlinda, RN, LNC, Certified Life Coach, Director, Clinical Services for Western Region
A Registered Nurse with 40 years nursing and nursing leadership experience as a Director of House Staffing and House Supervisors, CCU Assistant Nurse Manager, and Clinical Educator with a focus on Joint Commission preparation.  Cathy also worked as a Travel Nurse for 5 years in CCU and brings experience from both sides of the equation for travel nursing.  Cathy serves as Chair for 2 councils for NWONE (North Washington Organization of Nurse Executives).
Maura Padgett, RN, BBA, MBA, Director, Clinical Services
Maura's nursing career includes a broad spectrum of nursing specialties from medical-surgical to neurology and plastic surgery, critical care and long-term care. She has served as the Northeast Georgia District President for the Georgia Hospital Association and has served on the Board of Georgia Hospital Association. Prior work experience includes Presbyterian Health Care System in Dallas Texas, St Mary's Hospital and Athens Regional Medical Center in Athens Georgia and Northridge Medical Center in Commerce, Georgia where she served as the Chief Nursing Officer for many years.
Carol Fornuff, Director of Quality Improvement
Carol has over 25 years' experience in the healthcare staffing field with the last 15 years dedicated to Quality Improvement. She has worked for both locally owned and national staffing companies with healthcare industry experience in permanent placement, homecare staffing, supplemental staffing and quality assurance.  In addition, she volunteered for over 10 years for 2 woman's health nonprofit organizations and was involved in education and fundraising.
Ms. Fornuff's work experience includes recruitment, client service management, branch management, operations and quality improvement management. She has been involved in quality and Joint Commission standards in each role.
Lindsay Sandy, Compliance Manager
Lindsay has been with the company for over 11 years. Starting her career as an Allied Health recruiter and then joining the Compliance Division.  She is now the Compliance Manager for both the Travel Nursing and Allied Health Divisions. With Lindsay's experience, she understands the big picture and is willing to go above and beyond to ensure the best experience for our HCP's and clients alike.
---
TRAVEL NEW ADDITIONS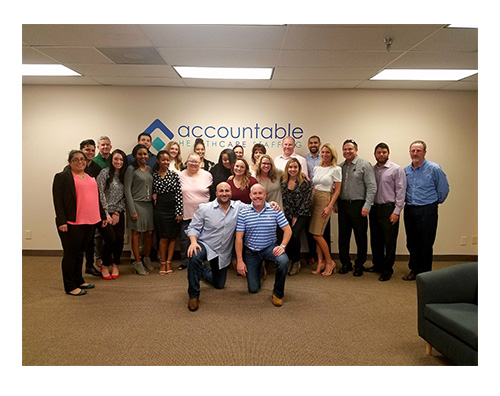 2018 is shaping up to be a great year for the Accountable Travel Division! We've been adding some great additions to our team, including several new recruiters. One of our newest additions is Adam Williams, the President of the Travel Division.
With almost 15 years in the healthcare staffing industry in a wide range of roles, Adam knows this business inside and out. He has been a recruiter working directly with Travel Nurses and Therapists. He's worked on the client side, pushing for new opportunities for all Travelers. Additionally, he has also lead teams of recruiters to success. With all that industry and leadership experience, he also brings fantastic energy and focus on what really matters: Our Healthcare Professionals!
Working with the Accountable Leadership Team, Adam – along with VP Robert Riggs, President of Operations Julie Pickens and the dedicated recruitment and support teams – is ready to take the Travel Division to the next level.
---
ACCOUNTABLE RAISES $20,000
FOR THE MARJORY STONEMAN
DOUGLAS VICTIMS' FUND

As we mourn those lost in the tragic events at Marjory Stoneman Douglas High School on Feb 14, 2017 we as a community, and as a nation, have come together to support the families of the victims.
After the tragedy, our corporate office, which is just 15 miles from Parkland committed to raise money to donate to a fund for the victims. Because of the generosity and eagerness to help those affected, we have raised a grand total of $20,000 from our Boca Raton office. We also have to give a special thank you to Mitsui for a generous contribution as well.
Thank you to all who intend to participate or have already contributed in supporting the victims of this tragedy and showing the spirit of Accountable.