According to research conducted by Lending Tree, the average American spends over nine hours prepping a Thanksgiving meal from scratch. That's crazy talk, especially if you're the go-to family chef every single year. If you want to take a break from all the shopping, prepping, and oven-coordinating this Turkey Day, we won't judge.
The following restaurants and grocery stores sell pre-cooked meals that include all the classic fixings, starting with the turkey and going straight through to pie. Most come frozen or cold, so you'll still have to get creative with your oven space, but heating up dishes is way easier than starting from scratch. Here are some options that have been available in the past and are likely to come back (or have already been confirmed) this year. We'll keep you updated as the ones up in the air fall into place.
Looking to cut out any type of prep and just stop by a restaurant instead? Don't forget to check out all of the restaurants open on Thanksgiving and make your reservations now.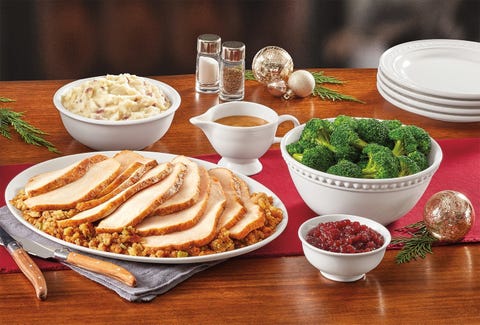 Denny's has offered "dinner packs" in the past, which have everything you need for a full Thanksgiving feast, including turkey, turkey gravy, cranberry sauce, potatoes, and one additional side. Best of all, the kits are ready to heat and eat right away, and they feed four guests. Last year, you could order them up to five days before Thanksgiving through Dennys.com and the Denny's app. We'll let you know when they announce this year's.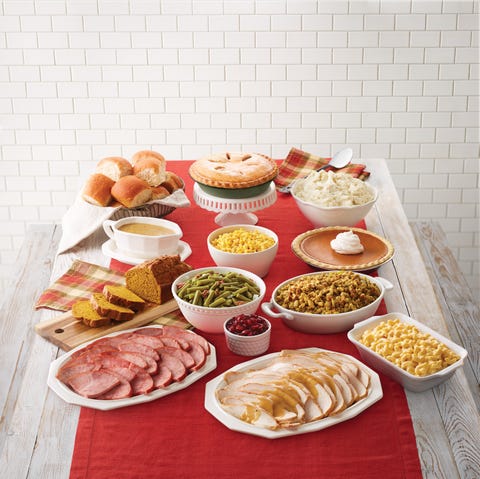 Bob Evans' Thanksgiving Farmhouse Feast serves up to 10 people and is packed cold, so you just have to heat and serve. The feast includes all the good stuff: slow-roasted, boneless turkey breast, bread and celery dressing, mashed potatoes and gravy, buttered sweet corn, green beans with ham, cranberry relish, rolls, and pumpkin pie. You can opt for a four-serving feast with ham instead of turkey, which was $54.99 last year, or a larger ham or turkey feast that serves eight people for $84.99 and $89.99 respectively. If you just want to pick up a couple of pre-made sides, like green beans or mac & cheese, those options are available, too. Just in case you want to dine in, the restaurant is open from 8 a.m. to 7 p.m. on Thanksgiving Day.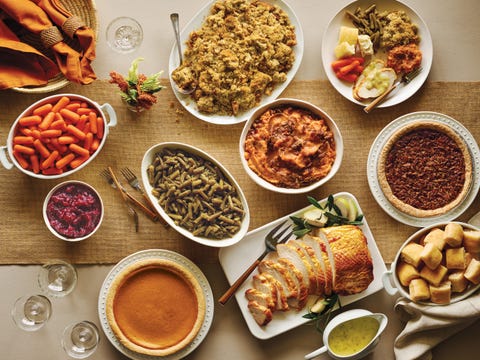 Just like last year, Cracker Barrel will offer Heat n' Serve Holiday Family Meals that feed up to 10 people, but as few as four people. You can pick them up from a Cracker Barrel, then heat at home in about two hours. The meal comes with oven-roasted turkey breast, cornbread dressing, gravy, cranberry relish, your choice of sides depending on which portion you order, sweet rolls, a pumpkin pie, and a pecan pie. The restaurant recommends ordering online at least 24 hours ahead of when you want to pick it up.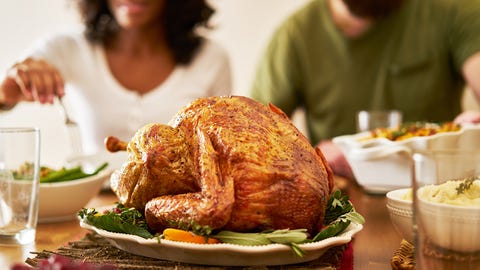 For just about $249, Harry & David makes a Gourmet Turkey Feast kit that arrives frozen. It comes with a roasted turkey (that will need a few days to thaw out), one appetizer assortment, two sides, one garnish, and one dessert. Rather eat ham or prime rib instead? They've got that, too.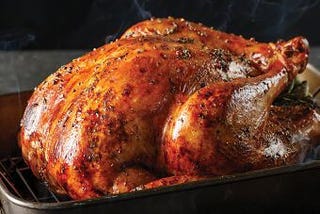 Although they're known for their red meats, Omaha Steaks steps up to the plate for Thanksgiving with a meal that includes a pre-brined turkey rubbed with brown sugar and honey. It comes with three sides, a dessert, and a free bonus item: a Duroc boneless country ham. The custom package is priced at $230.95 and ships free.
Boston Market typically offers some sort of holiday package, like a Thanksgiving meal that feeds up to 12 people. In the past it has come with an 11- to 12-pound whole roasted turkey, mashed potatoes and gravy, stuffing, and dinner rolls. The items come precooked but frozen, so you'll have to let them thaw and from there, it takes about two hours to heat everything up. Boston Market sells a few other meals if you have fewer guests, prefer ham as your protein, or want a more expansive menu. Keep an eye out on their Thanksgiving page for updates closer to the holiday.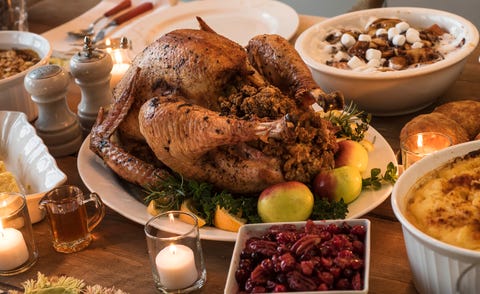 Whole Foods has holiday meals available for purchase online for way more than just thanksgiving. As Turkey Day gets closer, keep an eye out on their holiday selections page, as last year, the whole turkey option sold out fast. You can also opt for turkey breast with sides like green beans, stuffing, and vegetables, or other options curated for specific diets, like a paleo-friendly meal.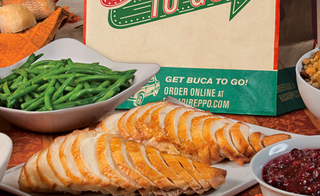 Buca Di Beppo is known for its family-style meals, so it's no surprise their Thanksgiving feasts really feed a crowd. The popular Italian restaurant's meal can feed up to six, and includes sliced white-meat turkey, mashed potatoes and gravy, spicy Italian sausage stuffing, green beans, bread, cranberry sauce, and pumpkin pie, and spaghetti and meatballs. They also have smaller to-go bags for a smaller crowd.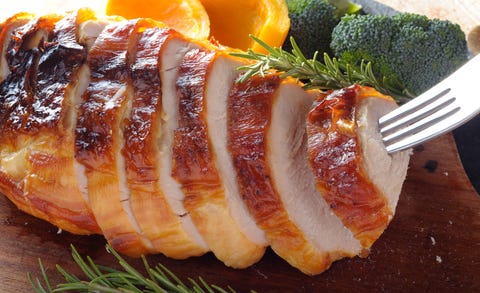 Bravo! Italian Kitchen offers family-style Thanksgiving meals that include sliced white meat turkey, homestyle gravy, roasted garlic mashed potatoes, spicy Italian sausage stuffing, green beans, cranberry sauce. Prices ranged from $79 to $419, with portions feeding anywhere from three to 20 people. Get your pre-orders in now.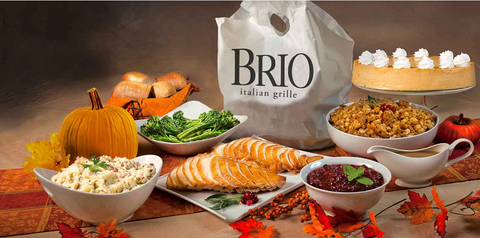 Depending on how big your gathering will be this year, you can enjoy BRIO's family style, catering, or Thanksgiving feast pan options that can feed anywhere between three and 20 people for prices as low as $21 per person. The menu this year includes turkey, stuffing, broccolini, mashed potatoes, orange cranberry sauce, and pumpkin spice bread pudding. Pre-orders are already available!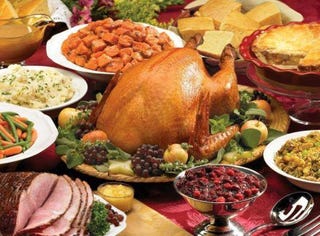 Last year, Marie Callender's offered a limited menu of a turkey or ham dinner for takeout only on Thanksgiving Day. All dinners included your choice of either turkey or ham with all of the fixings, a cup of creamy potato cheese soup or house salad, and a slice of either apple or pumpkin pie. We will keep an eye out for 2022 announcements!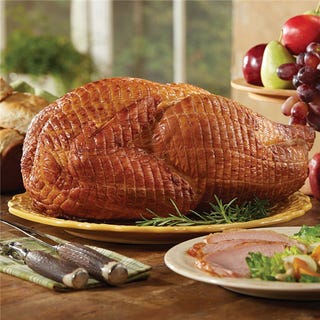 Buy a smoked turkey, either nine or 11 pounds, to be the center of your Thanksgiving table. The 11-pound bird can be yours for $99.99, while the smaller bird will run you $89.99 plus shipping. Order it here.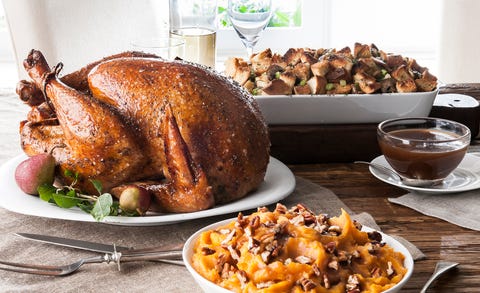 Get everything you need for a festive feast from Goldbelly, a curated delivery service with meals available from iconic restaurants nationwide. Order a Turducken as your main dish, and try out Carla Hall's sides to complete the spread.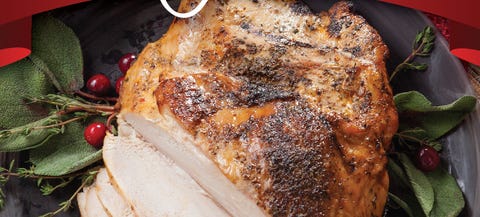 Choose holiday dinners that serve up to 10 people and come with a protein, dressing, potatoes, cranberry relish, gravy, and rolls.